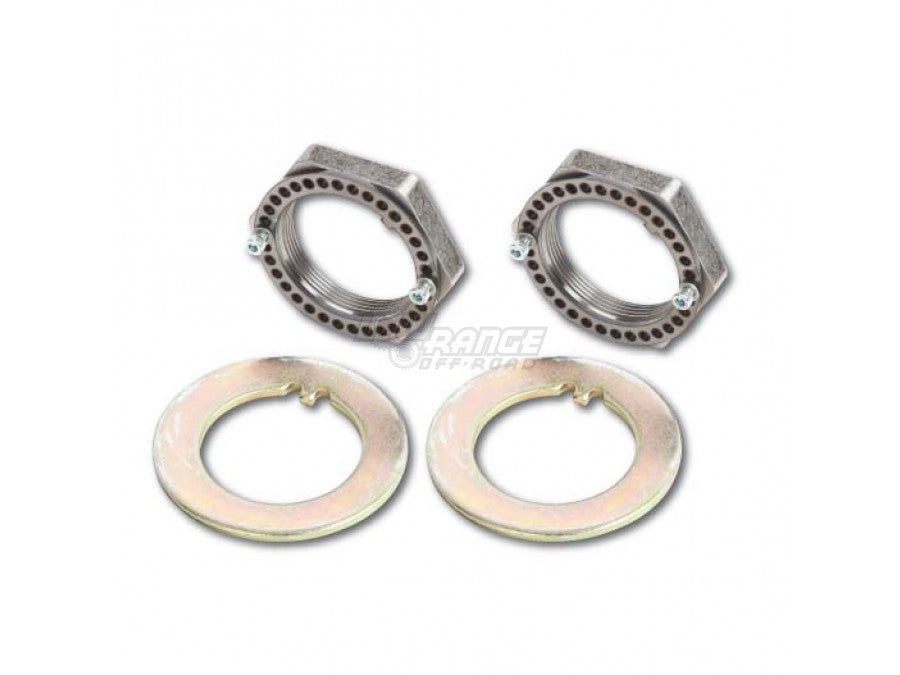 4130 Chromoly Spindle Wheel Bearing Nut Kit, Trail-Gear
by Trail Gear
In many cases, stock wheel bearing nuts and star washers can be used several times. However, with the increased maintenance required of an off road vehicle, these will need to be replaced. Trail-Gear now offers a Chromo Spindle Nut Kit that allows you to more easily service your axle and decreases your long term service costs. The Locking Nut and Washer have been CNC machined from 4130 Chromoly. The Nut has also been heat treated to Grade 8 standards. Kit comes with the hardware necessary for one axle.
Advantages over stock:
Stronger than stock. Made out of 4130 Chromoly.
Extends the life of your wheel bearings due to loose spindle nut and OEM lock washer.
Ease of installation.
This kit includes:
Thrust Washer (qty 2)
Spindle Locking Nut (qty2)
Spindle Locking Washer (qty 2)
Washer, M3 locking (qty 4)
M3-.05 Socket Head Cap Screw (qty 4)
NOTE: 1 KIT SERVICES 1 FULL AXLE