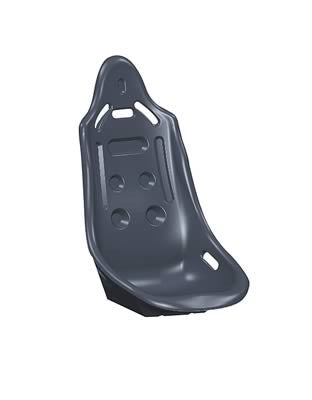 Brand:Summit Racing
Manufacturer's Part Number:SUM-G2100
Part Type:Racing Seats
Product Line:Summit Racing® Poly Race Seats
Summit Racing Part Number:SUM-G2100


Seat Style:Highback bucket
Seat Material:Polyethylene
Seat Finish:Black
Depth (in):20.000 in.
Height (in):32.250 in.
Width (in):20.000 in.
Quantity:Sold individually.
In-Store Pickup:Choose In-store pick-up (OH, GA, NV) on our web site.
We put a lot of thought into our new Summit® Race seats--and it shows. For example, we gave them three separate belt openings instead of one, so you can use "H" or "Y" style safety harnesses. We also added two recessed locations, so you can anchor them to a roll bar. Other features include a lower "stance" for more head clearance, cone and rib back supports for added impact protection, and a ribbed mounting base for added strength. We also added more surface texture and cover beadlocks to keep the seat covers in place.