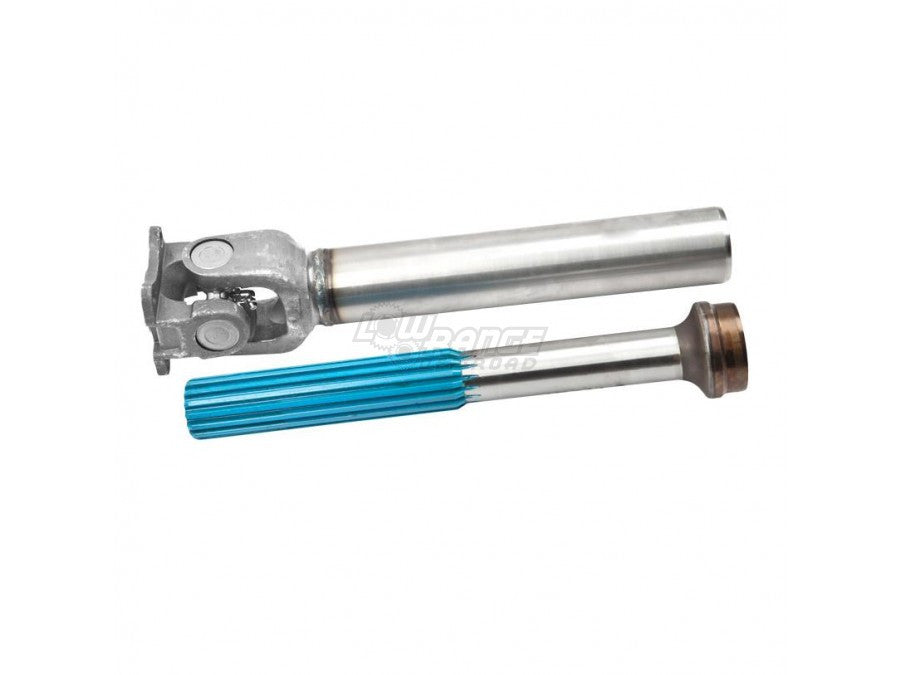 Details
We are pleased to announce the release of Trail-Gear's new and improved heavy duty drive line. The heavy duty driveline splines are 42% larger than the old design and the spline section is nylon-coated to prolong many years of use on the trail.
Each kit comes with a Heavy Duty U-joint installed. Full circle retaining rings are installed to securely hold the u-joint in place.
This product is a heavy duty replacement part and is not recommended for use on the street.
When installing a lift and crossover steering you need a long spline drive shaft, especially in the front. A flexy front suspension system requires more slip spline then the stock shaft is able to provide. The result with a stock drive spline is the drive shaft comes apart on the trail. This long spline kit is designed to replace the stock slip section.
To install this kit the stock slip section and tubing is cut off and then section along with new tubing is welded in place. Tubing is not included but will be available separately at a later time.
With other kits on the market why purchase ours? These drive shaft kits are specially heat treated and hardened to prevent bending. 
Units are precision machined and DO NOT have welded in u-joint caps like previously before.
This product is a heavy duty replacement part and is not recommended for applications requiring a balanced driveshaft. Not recommended for use on the street or speeds over 50mph. 

Features popular 60mm x 60mm bolt pattern found on '83-'85 Solid Axle Pickups and 4Runners. Use in the rear of '01 and newer models with triple drilled 29 spline flange from Nitro Gear.