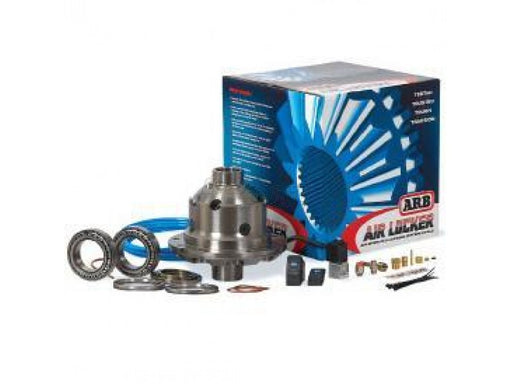 The ARB  Air Locker is one of the world's most highly regarded traction aid. The ARB Air Locker is a driver controlled locking differential originally designed to give serious 4 wheelers the traction needed to combat extreme off road terrain. When extra traction is required, the driver activates the Air Locker via a convenient dash mounted switch. Pneumatic pressure supplied by an on board air compressor engages ARB's patented locking mechanism within the Air Locker, thus preventing the wheels from turning independently. The Air Locker is deactivated by flicking a switch, returning the differential to normal. By far the most coveted locker in the world! Choose from front or rear lockers.
Models
RD132 Toyota 8 inch 4cyl, V6 and High Pinion FJ80 Air Locker
The RD132 Superceeds the RD23 in March of 2007.
If you have a 4cyl differential, late model 50.00mm [1.969"] id carrier Bearings must be used. (ARB Part No. 160116)
RD142 Toyota Land Cruiser 9.5" Air Locker Full Floating
Please Note: The RD142 is made for all 50mm carrier bearings. If you are installing an Air Locker into an earlier model Toyota with a 45mm differential carrier bearing inside diameter then you will need to use the higher rated later model 50mm bearings: Timken # 32010X-32010X or ARB # 160116. If your OE carrier bearings have an ID of 50mm, replace them with new bearings of the same type.
Toyota Land Cruiser 9.5" Differentials (12 Bolt Full Floating. What does this mean "Full Float"?  The axle shaft is splined on both ends, the axle shaft does not support the weight of the vehicle, the bearings do- therefore, the axle "Floats" inside the axle housing.)
Please Note, this will not fit FJ80 / LX450 Front as these are 8" high pinion reverse rotation differentials. 
This locker will not work with any of the semi float c-clip rear axles!
How do I tell if I have a full floating or semi floating rear axle?  If the wheel hub is flush with the wheel it is a semi floating rear axle. If it has a hub that sticks out past the wheel then it is a full floating rear axle.