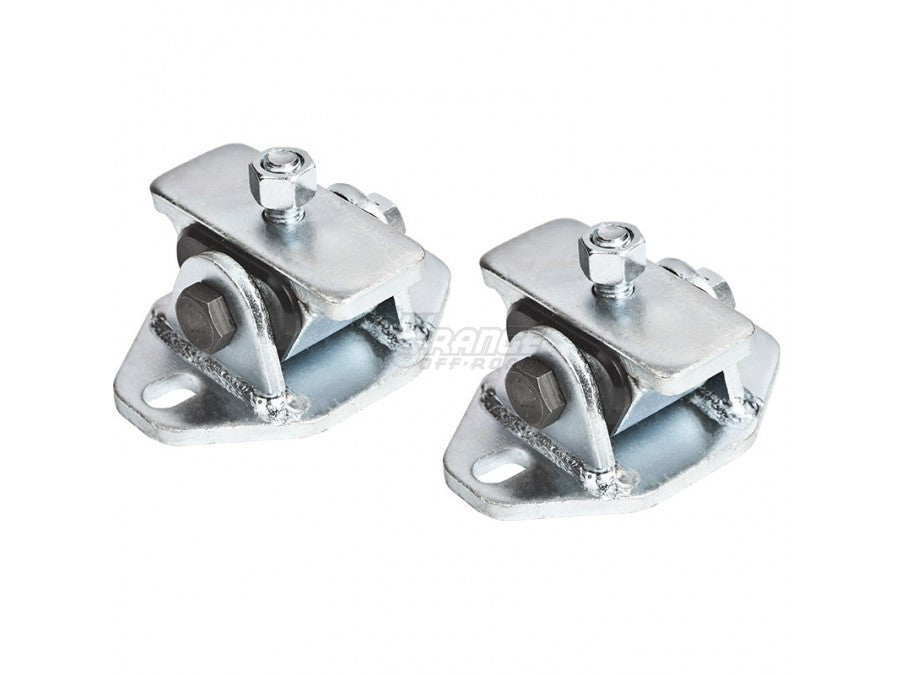 Bomb Proof Motor Mounts
by Trail Gear
Anyone who has dual cases with 4.70 gears in their Toyota rock crawler has at one time or another broken an OEM rubber motor mount and heard the awful sound of their fan blades hitting their radiator. We have an answer for that problem, we call it the Bomb Proof Motor Mount Kit. We feel so confident about this product that we back it up with a world famous No Questions Asked Lifetime Warranty.
The base of the motor mount (frame side) is made out of 1/4 inch plate, while the surface plate that the motor sits on is made out of 3/8 inch material and has a class 10.9 bolt that is mechanically locked to the engine mount plate, not just threaded in. The bushings out of a high grade polyurethane for durability and years of dependability. The finish is a clear zinc plating that looks sharp and will last a lifetime. The mount holes are slotted so that the Bomb Proof Motor Mount Kit is easy to install and can be used on 3.5 inch and 3.75 inch applications. You dont even have to measure to figure out what motor you have; the Bomb Proof Motor Mount Kit just works. Note: This product may cause more vibration than the OEM rubber mounts. This is the trade-off we make when going to stronger components.
 Applications:
 1979-1995 Pickup and 4Runner 4 Cylinder 22R, 22RE, 21R, 20R, 18R, 3.0L 3VZE V6, 2.7 3RZFE 4CYL, and 3.4L 5VZFE V6.