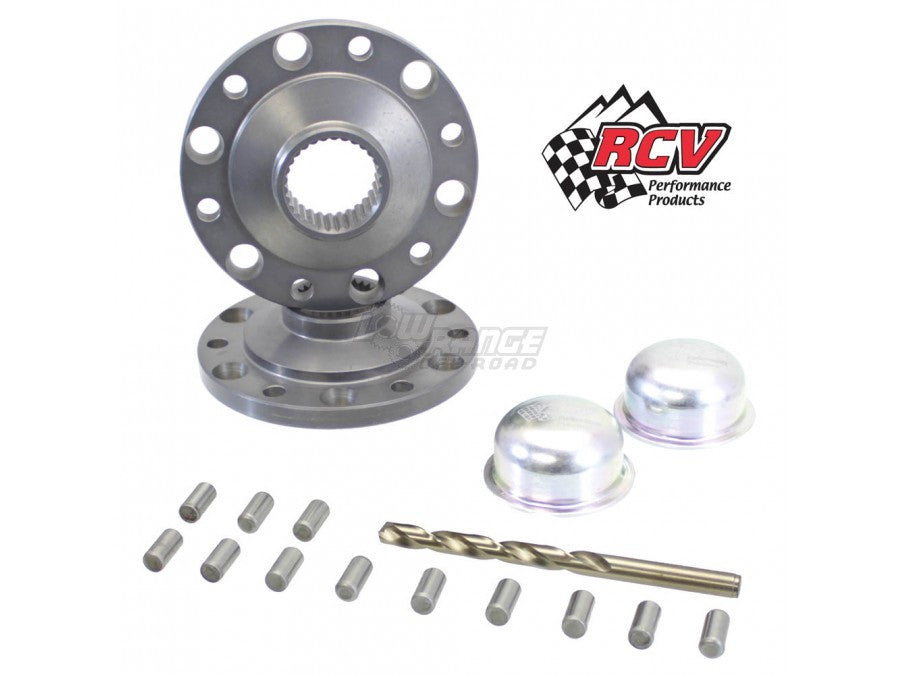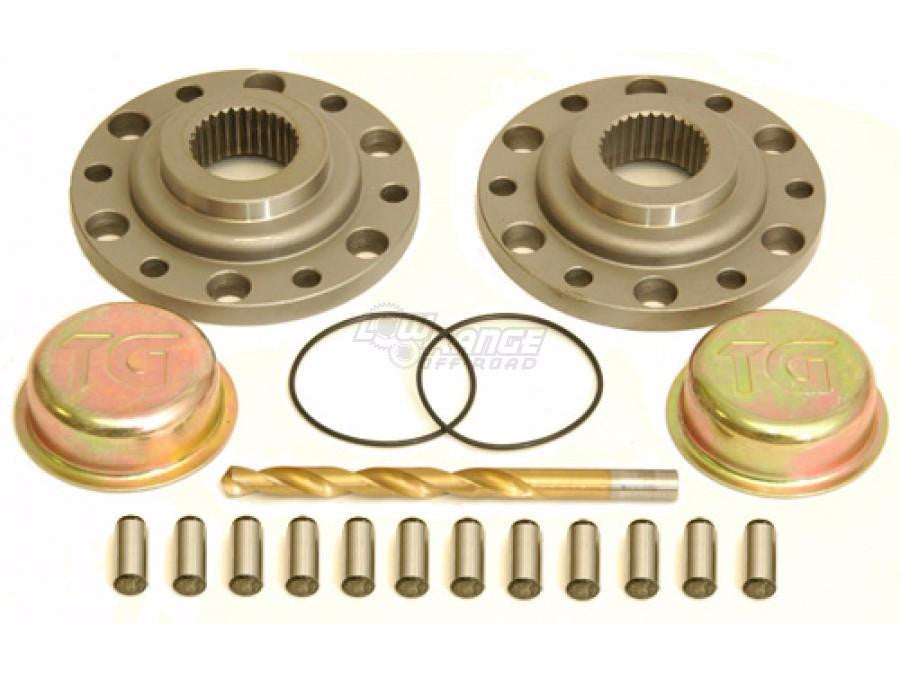 4340 Chromoly Drive Flange Set for Toyota Solid Front Axles
by Various
There are two brands, RCV and Trail Creeper.
RCV's
Complete your RCV Performance Toyota CV Axle Set with this ultimate upgraded 30 spline Drive Flange Kit. These flanges are manufactured in the US with 4340 chomoly which makes them much stronger than factory flanges or locking hubs. The set comes complete with 2 flanges, 2 dust caps, drill bit and 12 heavy duty dowels (6 more dowels to help to distribute the load), 
Dust Caps are laser engraved with RCV's Logo.  
Note: Not recommended for street use. 
Trail Creeper
Heavy duty drive flanges for Toyota solid front axles. These flanges are much stronger then factory drive flanges or lock out hubs. Flanges feature a larger center section with more support for the splines. Made from hardened tool steel (4340 Chromoly), these hold up much better to the kinds of torque possible with today's heavy duty aftermarket axles. Kit includes 2 flanges, 2 dust covers, 2 cover seals, drill bit and 12 heavy duty studs. Additional studs share the load, preventing hub stud and bolt failures common to stock drive flanges and hubs. Flange covers feature an exclusive O-ring for a water proof seal. If your running stock hubs on your truck, drive flanges make a great trail spare for your tool box. If your stock hub gears fail on the trail, drive flanges can be quickly installed to restore 4wd. Fits 1979-1985 Toyota Pickup/4Runner solid front axles.
Recommended for off-road use only, not recommended for use on the street.
We recommend that flanges be painted before installation.
THESE ARE SOLD IN PAIRS
Fits: 
Toyota Pickup ('79-'85) & 4Runner ('84-'85)
Land Cruiser 40/55 Series ('76-'84) & 70 Series ('84-'89)
Land Cruiser FJ60 ('81-'87) & FJ62 ('88-'90)
Land Cruiser 80 Series ('91-'97)