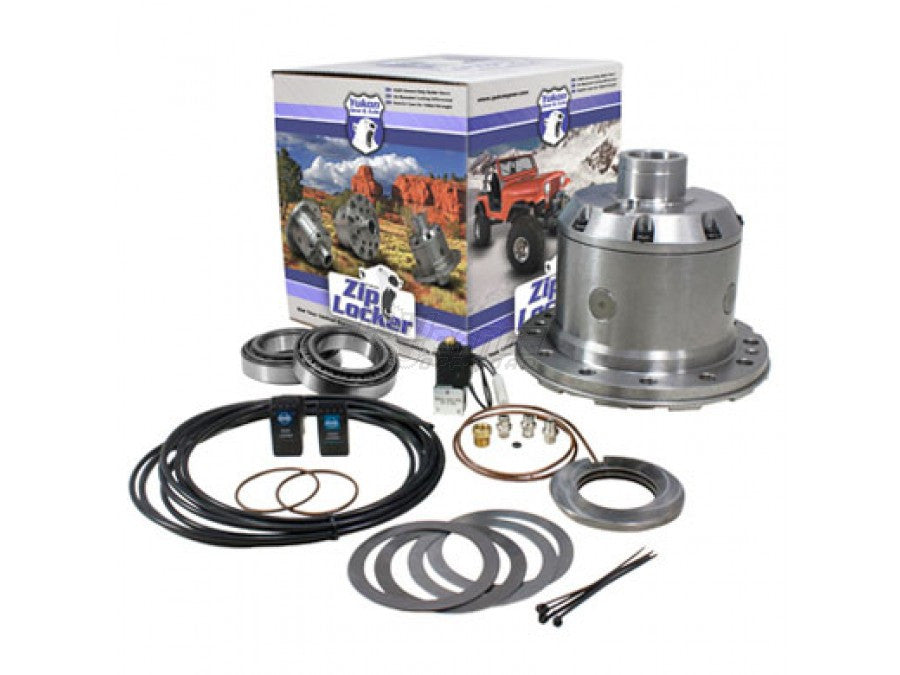 Toyota 8" V6 / Turbo 4 Cylinder Yukon Zip Air Locker (YZLTV6-30)
by Yukon
This is the Zip Air Locker for the Toyota 8" V6 Differential.
So you may ask, since it is cheaper than what we are used to, is it going to break?  Well, we can say this... the case is a forged chunk of 4320 chromoly to start.  
The Yukon Zip Locker is the latest in on-demand traction. Its air-operated design allows you to switch from an open differential to 100% lockup when you need it, giving you the ultimate in driver selectability. 
The Yukon Zip locker is an air operated locker that provides selectable traction for off road or street use. This unit features 4320 Chrome Moly internals for added strength. Assembled in the USA! compressor sold separately. 
Locker Includes:
-Carrier Bearings for V6 Model (50mm ID Bearing)

-Switch with front and rear covers (So you can use the locker in the front or the rear of your truck)
-Nylon Line
-Seal Housing
-Quick Connect Air Fittings and Associated Adapters
-Zip Ties for Nylon Hose Routing
-Installation Instructions and Service Manual by Yukon Gear
Manufacturer Part Number: YZLTV6-30
Fits:
-Toyota 8" V6, or Turbo 4cyl Style Differentials found in 1986-1995 Toyota Pickup, Hilux, and 4Runner. (50mm ID Bearings)
-1996-2009 4Runner 8" Rear Differential without elocker.
-2007-2009 FJ Cruiser 8" Rear Differential with 50mm ID Carrier Bearings without Elocker.
-Toyota FJ80 Front High Pinion 8" Differential without Elocker.
-Toyota Hilux Pickup 1985-1997 with 50mm ID Carrier Bearings.
-Will not fit 2010+ FJ Cruiser and 4Runner.
-Will not fit non-elocking Tacoma 8.4" or T100 Differential.
-Will not fit elocking carrier found in Tacoma, 4Runner or FJ Cruiser.
If you are not sure on the differential you have, measure the carrier bearing Inner dimension, the V6 models are 50mm ID.