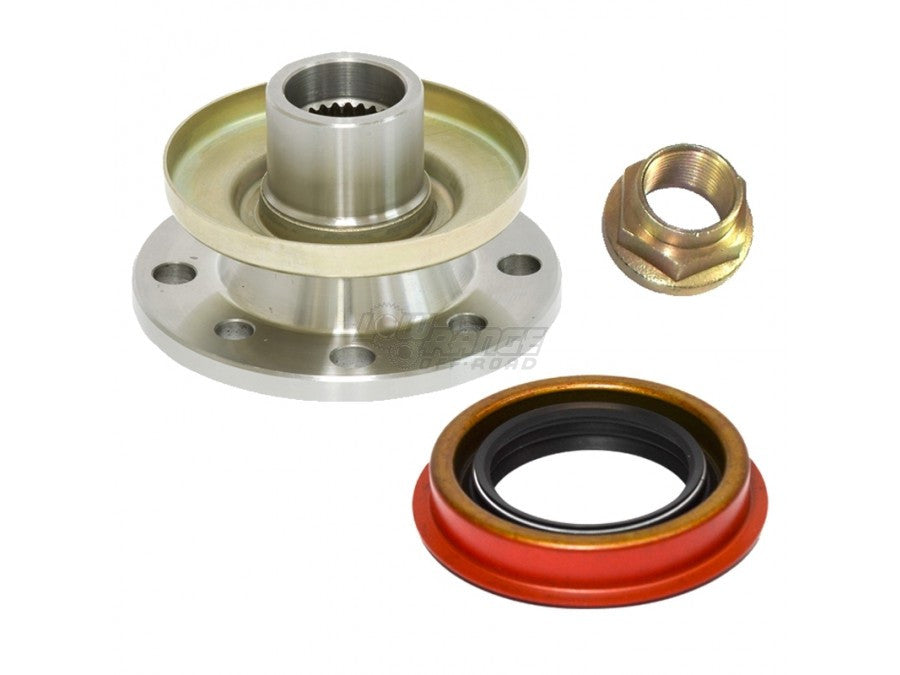 Toyota Pinion Flange Fit Kit For use when upgrading to 29 spline pinion
by Nitro Gear
Toyota Pinion Flange Fit Kit Use When Upgrading to 29 Spline Pinion by Nitro (YOKTOYFITKIT-29) OR Trail Gear  (304110-1-KIT)
Replaces Toyota OE Part number 41204-35100 & 41204-35110.
NITRO Required to fit Nitro 29 Spline 8" or 9.5" Ring & Pinions to 2002 & older vehicles.In 2002, Toyota started using 29 Spline pinion & flange on the 8" & 9.5" differentials. Following Toyota's lead for an upgrade, Nitro Gear & Axle has been upgrading much of their line of Ring & Pinions for Toyota to 29 Spline. This means, if you are fitting the newer 29 Spline Ring & pinion to a 2002 or Older diff, you will need this flange.
Differential: Toyota 8" & 9.5"
Pinion Spline Count: 29
Bolt Patterns: 60mm x 60mm, 66mm x 66mm
Seal Surface: 1.615"/41mm
Kit Includes:
Dual Drilled Pinion Flange
Pinion Nut
Pinion Seal
TRAIL GEAR  The 29-spline Differential Hardware kit contains all the 29-spline hardware needed to use 29-spline Ring & Pinon gears in your Toyota differential.  This kit includes our forged chromoly 29-spline Quadruple-drilled flange with preinstalled dust shield, 29-spline Trail-Safe Pinion Seal, and 29-spline pinion nut.  Fits 8" Toyota differentials with 29-spline pinion gears (Ring & Pinion gears sold separately). 


Included bolt patterns:  66mm x 66mm x 11mm, 60mm x 60mm x 10mm, 60mm x 68.3mm x 10mm, & 61.5mm x 70mm x 10mm.